Posts for tag: dental implant
By Advanced Dental Concepts
September 27, 2019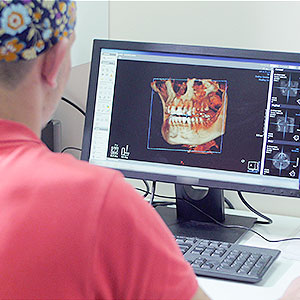 Compared to other dental restorations—a few of which have been around for over a century—implants are a relatively recent development. But even though it's just now entering its fourth decade, recent advances have catapulted implant therapy well beyond where it began.
That's due mainly to digital technology. Two examples of this, computed tomography (CT) and 3-D printing, are increasing the accuracy and efficiency of implant placement.
Properly placing an implant is one of the most important elements in achieving a natural and attractive result. But finding the best location is often difficult due to a lack of suitable bone volume, the patient's bite or the proximity of anatomical structures like nerves and blood vessels. CT imaging, especially Cone Beam CT scanners (CBCT), is helping to make implant placement planning easier.
Unlike the static, two-dimensional views of standard x-rays, CBCT takes hundreds of images and digitally blends them together to create a virtual 3-D model of the patient's jaw and face. Dentists can view this highly detailed model on a computer monitor from various vantage points and better identify possible obstructions. With better information about what "lies beneath," they can more accurately pinpoint the best implant site.
Creating the ideal plan is one thing—successfully implementing it is another. Dentists often create a surgical guide that helps them drill in precisely the right positions during surgery. The guide, which resembles a mouthguard, fits over the gums and contains marker locations for drilling.
Many dentists are now using 3-D printing to create these surgical guides. A 3-D printer turns a digital model of the guide based on measurements of the patient's mouth and proposed implant locations into an actual physical object "printed out" layer by layer of special polymer material. The end product can be more precise than guides created by other means.
These and other technological developments are helping implant therapy rise to a new level of success. With the resulting increase in accuracy, efficiency and less treatment time, tomorrow's implant patients will be the ultimate beneficiaries.
If you would like more information on restoring missing teeth with dental implants, please contact us or schedule an appointment for a consultation. You can also learn more about this topic by reading the Dear Doctor magazine article "How Technology Aids Dental Implant Therapy."
By Advanced Dental Concepts
May 20, 2019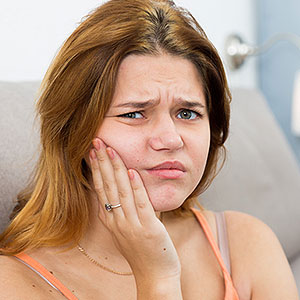 Losing a tooth can be traumatic, but a dental implant can dramatically turn that experience around. Providing functionality, life-like appearance and durability, implants stand out as the premier restoration for lost teeth.
For adults, that is. An older child or teenager with a missing tooth may need to wait a few more years for an implant. The reason: jaw development. A person's jaws, particular the upper jaw, continue to grow with most growth completed by early adulthood. Natural teeth with their periodontal attachments develop right alongside the jaw.
But because an implant attaches directly to the jawbone, its position is fixed: it won't change as the jaw grows and may gradually appear to sink below the gum line. That's why we wait to place an implant until most of jaw maturity has occurred after full jaw maturity. For females, we try to wait until 20 years of age and for males, usually 21 years of age. These are guidelines as some people mature faster and some slower, so a discussion with your dentist or surgeon is necessary to make an educated decision.
While we wait, we can install a temporary replacement for a child's or teenager's lost tooth, usually a partial denture or fixed modified ("Maryland") bridge. The latter affixes a prosthetic (false) tooth in the missing tooth space by attaching it to the back of natural teeth on either side with bonded dental material. It differs from a traditional bridge in that these supporting teeth aren't permanently altered and crowned to support the bridge.
During the time before implants we should understand that the area where the implant will be placed will undergo some bone deterioration, a common consequence of missing teeth. Forces generated as we chew travel through the teeth to stimulate renewing bone growth all along the jawbone. But with a lost tooth the chewing stimulation ceases at that part of the bone, slowing the growth rate and leading to gradual bone loss.
Fortunately, the titanium posts of dental implants stimulate bone growth as bone cells naturally grow and adhere to their surfaces. Before then, though, if the bone volume is diminished, we may need to graft bone material to stimulate bone growth that will enlarge the jaw bone enough for an implant to be placed.
It usually isn't a question of "if" but "when" we can provide your child with an implant for their missing tooth. In the meantime, we can prepare for that day with a temporary restoration.
If you would like more information on dental restorations for teenagers, please contact us or schedule an appointment for a consultation. You can also learn more about this topic by reading the Dear Doctor magazine article "Dental Implants for Teenagers."
By Advanced Dental Concepts
May 10, 2019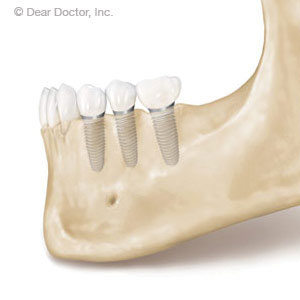 Losing teeth continues to be an all too common experience for people, especially those in their senior years. Fortunately, there are several ways to replace them, ranging from partial or full dentures to implants.
Some, though, postpone or simply choose not to replace a lost tooth, often because of the cost. But putting off a dental restoration could have a long-term impact on your health, and not in a good way. Continuing bone deterioration is one of the top consequences of delayed restoration.
Like other bones in the body, the jawbone is living tissue with cells that form, grow and eventually wear out. At the end of their life, these older cells give way to new cells. Eating and chewing play an important role in maintaining this growth cycle: the forces we generate as we chew travel up through the tooth roots to stimulate bone growth in the jaw.
When a tooth goes missing, though, the stimulus ends. Over time the bone cell replacement rate can fall off and the bone slowly loses volume. To make matters worse, bone loss can continue beyond the immediate bone underlying the tooth and affect the rest of the jawbone. The jaw can shrink in height and width, and in time become weaker overall and more susceptible to fracture.
But dental implant restorations in particular could help stop or even reverse bone deterioration at the site of the missing teeth. The titanium post implanted in the jaw attracts bone cells, which grow and adhere to its surface. Over time the bone fills in and becomes stronger.
You don't want to wait too long, though, because implants depend on a minimum amount of bone present for secure placement. You should therefore undergo an implant restoration as soon as it's practical after tooth loss. Otherwise, although we may be able to restore some of the lost bone with bone grafting, you may need to consider another restorative option.
When it comes to replacing missing teeth, time isn't on your side. But the right kind of dental restoration undertaken promptly can make for a brighter, healthier future.
If you would like more information on restoring lost teeth, please contact us or schedule an appointment for a consultation. You can also learn more about this topic by reading the Dear Doctor magazine article "The Hidden Consequences of Losing Teeth."