Posts for tag: jaw pain
By Advanced Dental Concepts
July 14, 2018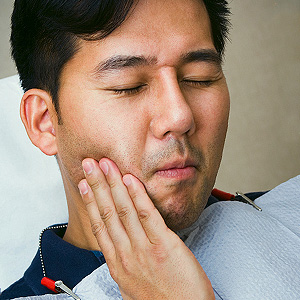 Chronic jaw pain can make eating, speaking or even smiling difficult. What's more, finding the right treatment approach can be just as difficult.
This is because TMD (Temporomandibular Disorder: named for the joints on either side of the lower jaw) actually describes a wide range of possible problems with the joints and connecting muscles. Any of them can result in impaired jaw function, radiating pain or even headaches.
We'll need to conduct a full dental and facial exam to accurately diagnose your jaw pain's cause. Even then, the way may still not be clear: there's considerable debate among dentists about the best treatment approach. Two basic schools of thought prevail, one conservative and non-invasive and the other more aggressive and interventional.
The conservative approach seeks to alleviate symptoms in a variety of ways, including recommending softer foods to give muscles and joints time to relax, applying cold and heat to ease soreness, massage of the jaw joint muscles, gentle stretching and jaw exercises. We may also prescribe medications like ibuprofen and other non-steroidal anti-inflammatory drugs for pain and swelling relief, and sometimes muscle relaxers to reduce spasms. If your pain stems from clenching or grinding habits, we could fit you with a custom bite guard you wear while you sleep to reduce the forces on your teeth.
The more aggressive approach is much more invasive. These methods include altering the bite or teeth position with orthodontics or dental work or surgically altering the joints themselves or the shape of the jaw. If you're recommended one of these more aggressive treatments, you should know they're not commonly used to treat TMD and they're irreversible. There's also no guarantee you'll gain relief from your symptoms, so by all means get a second opinion before undergoing any procedures.
For most people the best course of treatment is to start with the least invasive techniques, which are usually very successful. If they don't relieve your pain and limited function, we may then consider escalating treatment to more irreversible procedures to help you find relief from this unwelcome condition.
If you would like more information on jaw joint pain and how to treat it, please contact us or schedule an appointment for a consultation. You can also learn more about this topic by reading the Dear Doctor magazine article "Seeking Relief from TMD."
By Advanced Dental Concepts
September 13, 2017
Get to the bottom of your pain so you can find the relief you deserve.
Dealing with a nagging, painful jaw is nothing to scoff at. Anyone who deals with jaw pain on a regular basis may find it difficult to enjoy their favorite foods or may experience soreness just chatting with friends. If this is happening to you, our Andover, MA, dentist Dr. Richard Hopgood may have an explanation for what's going on.
There are a few different reasons why you may be experiencing jaw pain, so it can be difficult to pinpoint the issue on your own without a little help from our Andover, MA, general dentist. Here are some common reasons your jaw may feel sore.
You are a Teeth Grinder
Most people don't know that they grind their teeth, often because they do it in the middle of the night while they are asleep. Of course, during your routine dental cleaning, we may be able to see some signs that you grind your teeth such as excessively worn areas of a tooth. If you don't get the treatment you need to stop this nasty habit then you may face other issues like sore, achy or painful jaws. Luckily, teeth grinding can often be managed by wearing a custom-made mouthguard while you sleep.
You Have a TMJ Disorder
This is another common problem that may occur for a number of reasons, from traumatic injuries to the jaw to structural imbalances. Along with jaw pain, you may also notice a popping or clicking sound when you open or close your mouth or while chewing. You may also experience headaches, earaches and even neck pain as a result.
You Have an Oral Health Problem
Of course, there are loads of other reasons why jaw pain may be present. While teeth grinding and TMJ disorders tend to be the most common, this doesn't mean that an abscess (a dental infection), cavities or gum disease can't also manifest jaw pain, as well. A misaligned smile may also put too much pressure on certain teeth, which can also lead to jaw discomfort.
As you can see, there are quite a few reasons why you may experience jaw pain. Isn't it time you got to the bottom of your issues? Seek the care you need from Advanced Dental Concepts in Andover, MA. Call our office and schedule your next visit with Dr. Hopgood today.